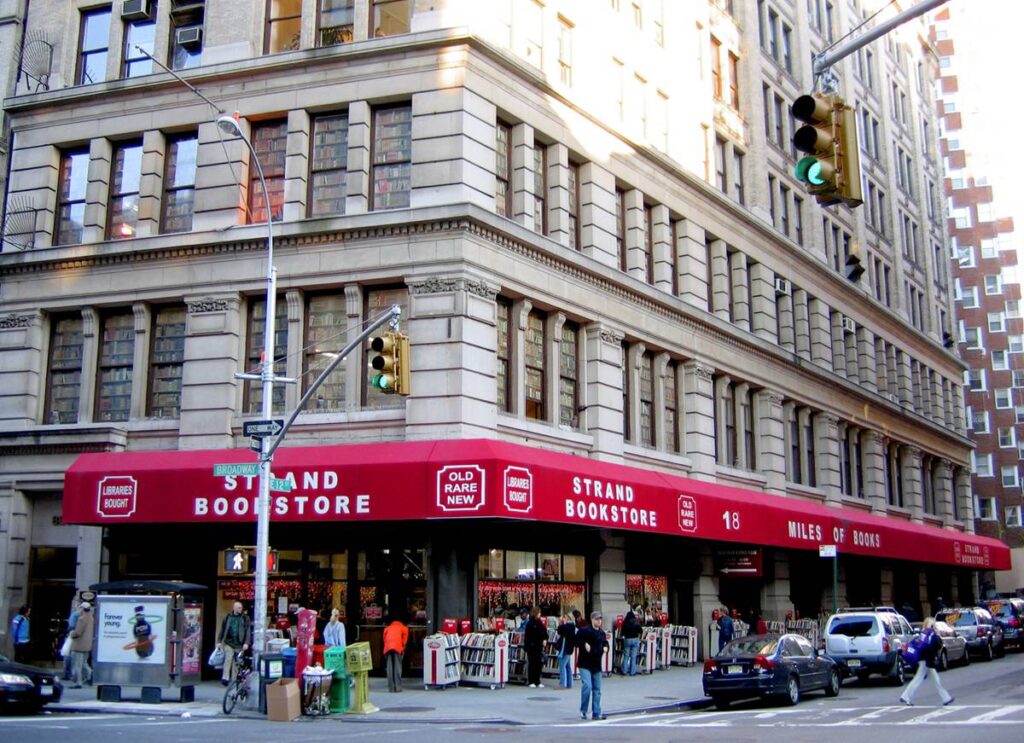 "I like not fair terms and a villain's mind." –William Shakespeare, The Merchant of Venice
When I told my friend (and fellow bookworm) that Strand Bookstore had just been designated a "landmark" in New York City, my friend clapped and smiled, excited at the idea that New York could preserve the Strand forever. After all, Strand Book Store is, like the books it sells, old, rare, and (in its selection at least) new. The Strand was founded in 1927 by Ben Bass, one of forty-eight bookstores on "Book Row" in Greenwich Village. Bass' son, Fred Bass, moved the Strand to its current location on 12th Street and Broadway in 1957. Of the forty-eight bookstores that originally comprised the Village's literary lane, only the Strand survived. Battle-worn but not yet beaten, the Strand continues to operate as a family-owned business in a market dominated by companies like Amazon.
At first glance, landmark designation might appear to be a gift from New York to its most beloved, resilient bookstore. That's certainly what my friend thought. The realities of this designation, however, tell a different story. By earmarking the Strand for preservation, New York City Landmarks Preservation Commission ("LPC") might have just undone the Strand's vigorous efforts over the last several decades through a bureaucratic decision that took less than eight months.
The Landmarks Preservation Commission is born from the New York City municipal charter and is authorized to regulate the designation and maintenance of landmarked buildings. It is the largest municipal agency of its kind in the nation. Often, LPC regulations are costly and time-consuming for the buildings upon which they are imposed. Landmarked buildings are required to receive approval from LPC for almost every exterior change—down to the color of paint and size of awnings. Applications for this approval come with a fee, on top of the monetary burden that is associated with hiring specialized architects who can replicate the original materials of the building. These costs add up for small businesses like the Strand, which already operate at what owner Nancy Bass Wyden calls "thin margins." Designation as a New York City landmark threatens to engulf Strand Book Store in a quagmire of paperwork, bills, and bureaucracy that it cannot afford—especially at a time when the bookstore needs to evolve with the rapidly changing demands of its customers.
So, what happens if a business like the Strand has a legitimate reason for wanting to fight a landmark designation? To the frustration of the Strand and its supporters, not much. The New York City municipal code says that LPC need only hold a public hearing before designating a building as a landmark. But LPC is not required to request testimony or consider any evidence presented at the hearing when it makes its final determination. LPC can—and did, in the Strand's case—pretend to listen and then summarily dismiss the vehement protests of small business owners and dedicated customers who indicated that the landmark designation could ruin the business inside the building. And let's be honest—this designation was not about 826 Broadway. This designation was about the bookstore inside 826 Broadway that made the building famous. In its very attempt to recognize the Strand for its imprint on the cultural heart of New York City, a municipal agency wielding too much power might be the cause of its destruction.
Reader, LPC has just played its hand. By designating the Strand a landmark over the protests of its owner, these New York "buildingcrats" have revealed how little due process there is behind the agency's ineluctable purpose and crippling regulations.
It is time for New York City to take a hard look at the activities of its agencies and ask: did the Landmarks Preservation Commission recently use its power for prose? I doubt it. I suspect it used its power, as agencies frequently do, for politics.
Written by Madeleine Case