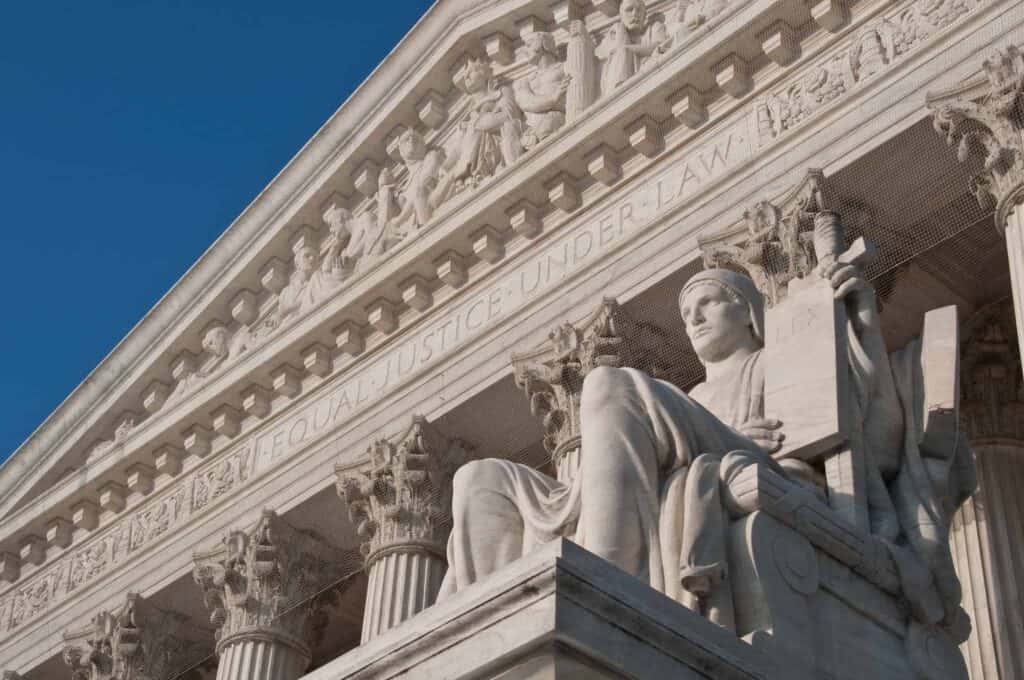 Author: NCLA Legal Intern Andrew Klee
Chief Justice John Roberts is praised by some—and criticized by others—for his efforts to maintain the institutional legitimacy of the Supreme Court by keeping an eye toward the broader political context in which cases are decided. Last month, the Court addressed the Trump administration's effort to end the Deferred Action for Childhood Arrivals (DACA) program, holding that the rescission was "arbitrary and capricious" in violation of the Administrative Procedure Act (APA). On its face, this is an important victory for those concerned about unchecked administrative power in the United States.
DACA was initiated in 2012 when the Department of Homeland Security (DHS) issued a memorandum allowing qualifying undocumented persons who entered the United States as children to apply for a renewable two-year forbearance from removal. DACA recipients are also eligible for work authorization and certain federal benefits. Roughly 700,000 immigrants have taken advantage of the program.
In 2014, DHS issued a memorandum introducing the related Deferred Action for Parents of Americans and Lawful Permanent Residents (DAPA), which would have extended DACA forbearance and benefits to over four million undocumented parents of U.S. citizens and lawful residents. It never went into effect. Almost immediately, Texas and 25 other states brought action against DAPA. The Fifth Circuit tabled the program by upholding a preliminary injunction against it. Notably, the Court concluded on the merits that DAPA was unlawful under the Immigration and Nationality Act because it extended benefits to a group of immigrants that was not authorized by the statute.
When President Trump assumed office in 2017, DHS rescinded the DAPA memorandum, citing the program's unlawful nature. Shortly thereafter, at the direction of Attorney General Sessions, DHS also rescinded DACA on the basis that the program suffered from the same legal defects as DAPA. Several groups of plaintiffs challenged the DACA rescission, arguing that it was arbitrary and capricious in violation of the APA.
In a decision that pushed the limits of APA power, in an opinion written by Chief Justice Roberts, the Supreme Court held that the agency's explanation for its action was insufficient, even if the program really had been unlawful in the first place. DHS Acting Secretary Duke had used the Fifth Circuit's opinion and the ongoing litigation in the DAPA matter as an effective basis for the claim that granting work authorization and federal benefits to a selected class of undocumented immigrants was unlawful. However, the Court determined that Duke did not assert a reasonable basis for her belief that forbearance from deportation was unlawful. Thus, in light of DHS's opinion when it introduced DACA in 2012 that forbearance was lawful, DHS acted arbitrarily and capriciously, as a matter of administrative law, by failing to consider forbearance-only alternatives in lieu of full rescission. Further, the agency gave no consideration to the reliance interests of hundreds of thousands of DACA recipients living and working in the United States.
For those of us concerned about administrative overreach, the majority opinion moves precedent in a positive direction by bolstering APA review and holding agencies accountable. It declines to allow an agency to cut procedural corners by simply stating an existing program is unlawful. Further, it refuses to let an agency rapidly change a rule without a sufficient explanation and reaffirms that an agency is required to consider significant reliance interests before rescinding previous action.
On the other hand, Justice Thomas's dissent argues that those who seek to shrink the administrative state should be hesitant to celebrate the result of this case. The Court has made it more difficult for an agency to rescind even unlawful agency action it inherited from a previous administration. Therefore, Thomas contends, this decision could incentivize outgoing administrations to "bind their successors by unlawfully adopting significant legal changes . . . ."
However, this argument ignores that unlawful agency action can be challenged independently using the APA and other grounds. Here, the legality of DACA is not really at issue—the procedure followed by the agency rescinding it is. While Justice Thomas may very well be correct that DACA itself is unlawful, following his approach would allow an agency to impulsively revoke prior action by baselessly asserting that it is illegal. It also ignores the very real reliance interests on the regulated public—here undocumented immigrants with authorization to remain in the United States. Requiring an agency to meet certain procedural baselines before rescinding or changing a rule is a victory for civil liberties.
While the decision itself is cause for cautious optimism, the Court may not be as committed to strengthening APA review as it appears at first blush. Chief Justice Roberts is no stranger to placing disproportionate weight on the policy implications and broader societal effects of the Court's decisions. He has been sharply criticized by conservatives for his lack of jurisprudential purity and his willingness to side with the Court's liberal wing when he feels an outcome is best for institutional rapport. Perhaps most notably, in the 2012 case of NFIB v. Sebelius, Chief Justice Roberts joined the Court's liberals in a 5-4 majority upholding the Affordable Care Act's individual mandate. Many critics believe Roberts did this in an effort to avoid adding additional fuel to the years-long fight over Obamacare.
DACA is an incendiary issue fraught with political repercussions for Democrats and Republicans alike. On the campaign trail in 2016, President Trump fluctuated between nudging Congress to act on DACA and emphatically promising to end the program outright. As president, President Trump has repeatedly—and unsuccessfully—attempted to use DACA as a bargaining chip for border wall funding from Congress. When Attorney General Sessions directed DHS to rescind DACA, the decision was met with harsh criticism from all sides of the political spectrum. Leading into the 2020 election, the continued existence of DACA remains one of the most contentious issues in American politics.
Chief Justice Roberts may have taken a similar approach in this case to that of his decision in Sebelius. It is likely he would not have voted for such an augmented view of APA review power if this case involved less inflammatory agency action. Like in Sebelius, if the Court had ruled the other way, the implications for the political landscape would have been enormous. The Court's legitimacy and political neutrality would have been questioned. The political environment would have become even more hostile heading into what promises to be one of the most divisive elections in history.
Only time will tell if this decision signals that the Roberts Court is indeed committed to holding agencies accountable or if this is simply a one-off attempt to douse the flames of political discord.
Photo Credit: Mark Fischer